SDSU Throw
It's not exactly rocket science, now is it?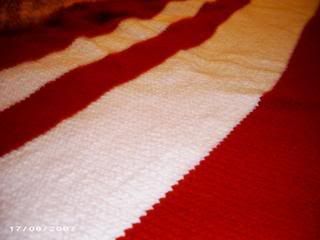 I'm exactly halfway through the SDSU blanket for my DD. I did forget to change the stitch pattern when I did the first white stripe, which threw it off, but oh well, it's moving along pretty quickly and I can do it fairly thoughtlessly while watching TV or listening to an audiobook.

Continuing my repeat journeys into the off-topic, I've also been playing a little bit in the kitchen. I've been pretty glued to blogs about bento (carefully arranged, balanced meals, usually boxed, originally from Japan but adaptable to anything) lately. If you haven't seen bento before, you might want to check out some of these:
Cooking Cute -not updated very recently, but the archives are great
Lunch in a Box - bento for mom and child, regularly updated with some great non-asian lunches, as well as post-lunch reviews
and my favorite, Just Bento, from the creator of Just Hungry (another favorite in the Bloglines feed) - both asian-inspired and weight-control conscious, with an emphasis on good cooking and smart portions, and not so much with the making faces on your food (a surprisingly popular bento "craft")
So here are the bentos I made recently: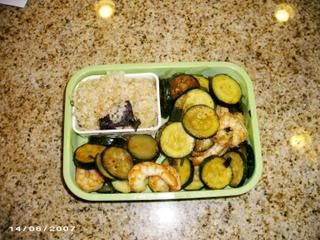 Stirfry zucchini and green onions with shrimp (for those of you on WW, only 1.5 points) and a half cup of brown rice - originally onigiri (shaped rice ball with savory filling and nori wrap) that I smooshed down into the side cup so I could close the top
and a slightly larger one for a hungrier day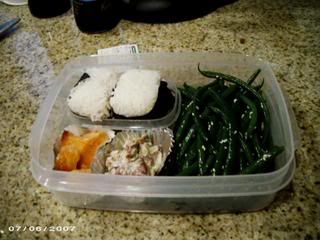 Crisp steamed french beans tossed in sesame oil and soy sauce (they look much oilier than they were - the darkness of the photo makes them seem greasy), sprinkled with sesame seeds, salted salmon, WW red potato salad and two white rice onigiri.
And then totally not healthy, in the re-assembling comfort food genre: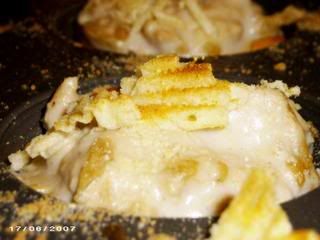 Tuna fish casserole, turned into individual tarts using repurposed refrigerator biscuits. I am almost too embarrassed to admit that there is nothing in this little bit o' goodness that did not come out of a can (oh wait - there's the deep fried potato chips!). Oh well, boy and man gobbled them down and licked the plate, so some days you just gotta go with it.