Suzie Homemaker
Have you ever walked through a model home or an open house, and looked at the kitchen/pantry/library/whatever nook and had this little fantasy:
You see yourself (looking purrfect, of course) in a soft diffused light, humming sweetly while putting the final touches on the rack of lamb/towers of presents/great American novel while the smells of homemade bread fill the house. And you think that if - if only - you could have that home, you would somehow be that person. Ignore the fact that you don't even have time to throw a frozen lazagna in the oven for your family, rather shucking a greasy bag of something at them most nights. Ignoring the fact that you work for a living, and therefore have to use what little free time you have to do irritating crap like clean toilets or do laundry.
If only I had that gourmet kitchen/desk/knitting nook, I would be that person.
Yeah, that's shite.
But I did just get a home with the beautiful kitchen - and the island I dream of - and a desk of my own that I do not have to share with anyone else - and a cozy chair in a recess to knit in. While I have not done a great deal of knitting this holiday season (I've begun a new thick'n'thin scarf for my niece), I did try to do a few other things to live up to that fantasy. Unfortunately I did not photograph any of them, so you'll have to settle for these stunning verbal pictures and lifted images.
Christmas cookie buckets: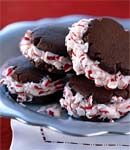 I used this epicurious
recipe
to make these cookies.
which I then wrapped in green cello and packaged in christmas buckets (Target, $1 each woot, woot!) Which I used to take care of all the obligatory gifting at the office. When you have to gift TWELVE PEOPLE, you gotta find a way to cut corners. (Actually, I really should have gifted 19, but I started getting ruthless when quadrupling the recipe still didn't cut it.) I saved lucky #13 for myself, but never got around to eating it, so maybe i'll take pictures of it one day.
Review: Easy to make if not for the sheer volume of cookie dough. Pleasing subtle chocolate flavor on cookies to balance uber-sweet peppermintiness of filling (and you do have to slap that shit in there). Would have been a total thumbs up had cookies not taken on heavy dryness of old newsprint after three days. I was hoping for stale soggy goodness, but no.
The Something To Prove Holiday Tea:
I was invited to a holiday tea and told that everyone brings cookies. Having never been to tea and not sure what to make cookie-wise, I went anti-establishment (yea! rock on, with your bad baker self! fight the cookie!!) with cupcakes. Uber easy from chocolate cake mix (get the kind with pudding in it) and canned cream cheese frosting, so I got all uppity with some of those things you get in Michael's - the raw candy stuff that you melt down and mold into god knows what and made chocolate peppermint cups and peanut butter stars to put on the cupcakes.
New Years Day Dinner:
I married into the skilled suzie seamstress family. My MIL and SIL can cook for an army, make their clothes, crafty anything you want and create multi-station children's parties without even batting an eyelash. I usually am assigned salad and roll duty at family holidays, though I have carved out a niche in the past few years as "Gravy Girl" (girl, I can turn drippings, flour and butter in pure HEAVEN.) Sidenote: I was once told to bring a vegetable dish, so I said I would make green bean casserole. No one knew what I was talking about. Hello? The double-wide (and I don't just mean your ass after eating them) dish on the back of every cream of mushroom soup can and jar of french-fried onions?? How did these people survive for so long without me?
So the hubster volunteers our home for NYD dinner (and then forgets to tell me, and then forgets he did it, but I digress) and I have to come up with a MENU. MENUs are a big deal. There must be a PLAN and it must involved a carefully orchestrated division of duties amongst each family attending. Unless of course, you are going to CASUAL and order pizza, which is code for you just don't want to try, but we won't shame you by letting you know that we know you're lazy. And I decide, I. WILL. MAKE. MY. MARK. I will own this holiday and place my scarlet L upon it. We will have a traditional new years dinner.
Except that what that is varies depending on what nationality, regionality or ethni-ality you are. I pick southern and then mix it with Irish, because hey - I'm part Irish and I like southern food. I made corned beef and boiled potatoes, hoppin John,
collard greens
, and
bananas foster
(a non-flammable version - I have a 5 year old nephew and he is very impressionable.)
Somebody please please please tell me how to make collards that don't taste like gym socks and black-eyed peas that don't smell like ass? (They were quite tasty, but I was mortified by the smell.) I used to know a Southern family that would make collards you would die for, but mine you only die
from
. Bless my family's heart, they all ate them and made yum, yum noises but I was not fooled. I know only the love in their hearts made those green gym socks go down.
PURRRR Pillow:
I am also 99% done with making a pillow cover for my daughter's room - whoopduhdedoo, right? My only defense is that it is not a square pillow, it is a seat cushion for this bench, the hubster made to fit in between her door and the bed so it is
shaped
. It's leopard print, so the hubster is horrified by the latent sexuality of it, but I figured, hey - the girl picked a safari theme, it'll be fine. Obscure it behind the mosquito netting curtains and he'll hardly know it's there. Pictures to follow once it's all stuffed and beeyootiful.